The authentic agriturismo in Tuscany
Tenuta di Mensanello is an agriturismo near Siena, nestled in the hills of Chianti in Tuscany, just a few steps away from the Francigena Way and the village of Colle Val d'Elsa. In our ancient hamlet, agriculture and landscape merge with history: for generations, our family has cultivated the large plots of land of the estate combining tradition and innovation. Our products range from wine to extra virgin olive oil, as well as meat from semi-wild-bred pigs.
Here at Tenuta di Mensanello we live the typical life of a Tuscan farmhouse and, if you visit us, you'll have the chance to experience it first-hand. Choose to spend your Chianti holidays in our rooms or apartments, taste natural flavors at our restaurant, relax in the swimming pool overlooking the countryside and take part in the activities that we crafted for you. Or else, celebrate your wedding in a rustic and spontaneous atmosphere, just a short distance from historic and artistic centers such as Siena and Monteriggioni.
Your country holidays near Siena
Rooms, apartments and Podere Fontediaccia
Tenuta di Mensanello gives you the chance to spend your Chianti holidays in rooms or apartments housed within the buildings of our agriturismo in Tuscany. In the village you will experience authentic countryside life, simple yet welcoming, for a long or short escape from everyday life – even with your pet friend, if you wish!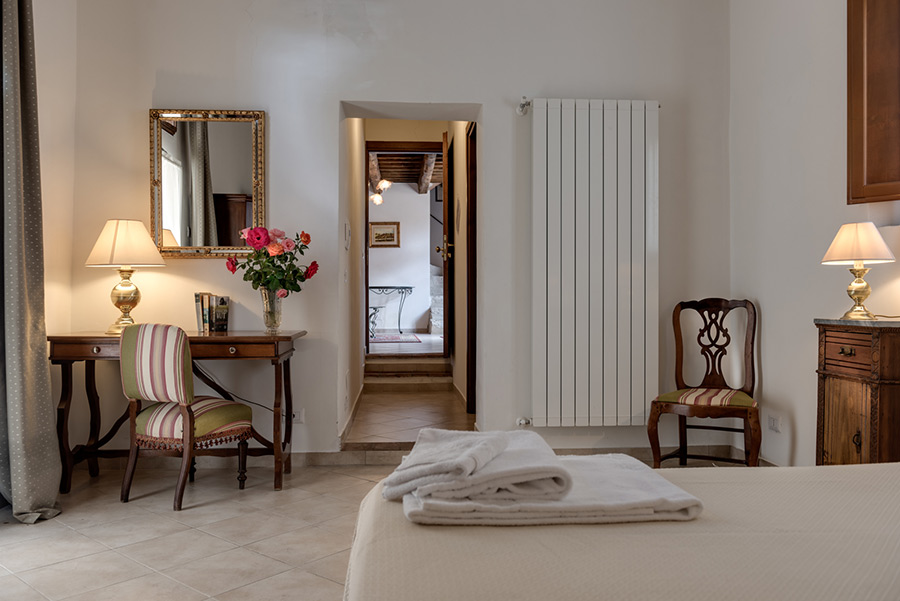 Check availability for your stay
Authentic Tuscan farmhouse experiences
Live in nature, taste the countryside flavors
To make your stay at our agriturismo in Tuscany even more special and live a true agricultural experience, don't miss the activities that we offer you here at Tenuta di Mensanello. From visits to the farmhouse and the wine cellar to those to the olive press and brewery, from guided tastings of oil and wine to picnics in the vineyards and trekkings for children and grownups in search of the secrets of our lands: there is something for everyone. And let's not forget the seasonal activities, such as saffron and olive picking!

Your events or wedding in Tuscany
Ceremonies and celebrations
Tenuta di Mensanello is the ideal frame for your rustic-chic wedding in the countryside. The many wide spaces of the village – the farmyard, the park, the poolside and the veranda of the restaurant – can host up to 100 people. The menu can be customized based on the needs and tastes of the bride and groom who can also decide to get married in the chapel of the estate.
But our agriturismo in Tuscany, near Siena, is also suitable for other kinds of events – big or small, private or corporate. In fact, we provide a fully equipped room where to celebrate birthdays and anniversaries, or where to set business meetings, dinners and gatherings.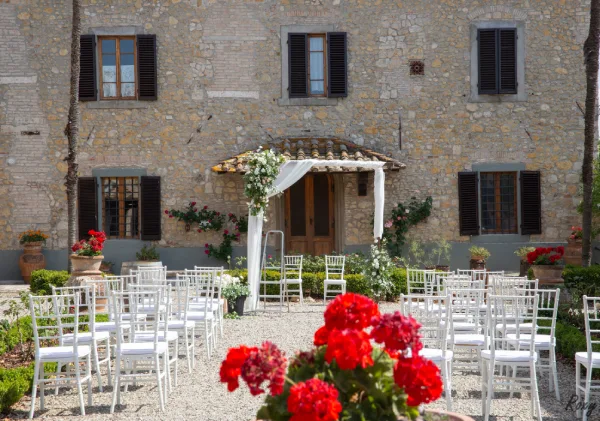 Our farmhouse restaurant
The typical Tuscan food, farm-to-table
The Tuscan restaurant at Tenuta di Mensanello serves the most delicious traditional dishes from our region, cooked with products from our farm and nearby estates. When we say that we serve food farm-to-table, we really mean it! Meat from semi-wild bred pigs, local cheese, vegetables from the garden, handmade pasta and desserts prepared by our cooks. All this is accompanied by the wines and extra virgin olive oil that we make in our agriturismo in Tuscany, as well as the artisan beers from our microbrewery. Get ready to taste the succulent and authentic flavors of the past.
The products of our Tuscan farmhouse
Wine, oil, and more
Located in Chianti, near Siena, the farmhouse Tenuta di Mensanello is a typical example of the ancient Tuscan farms and it's characterized by the top crops of Italian and regional agriculture. Vines, olive trees, cereals, sunflowers, fodder and legumes, not to mention the breeding of semi-wild pigs. Our lands, lying on slopes extended for more than 300 hectares, are an endless source of delicious products, that you will have the chance to buy in person or in our digital store.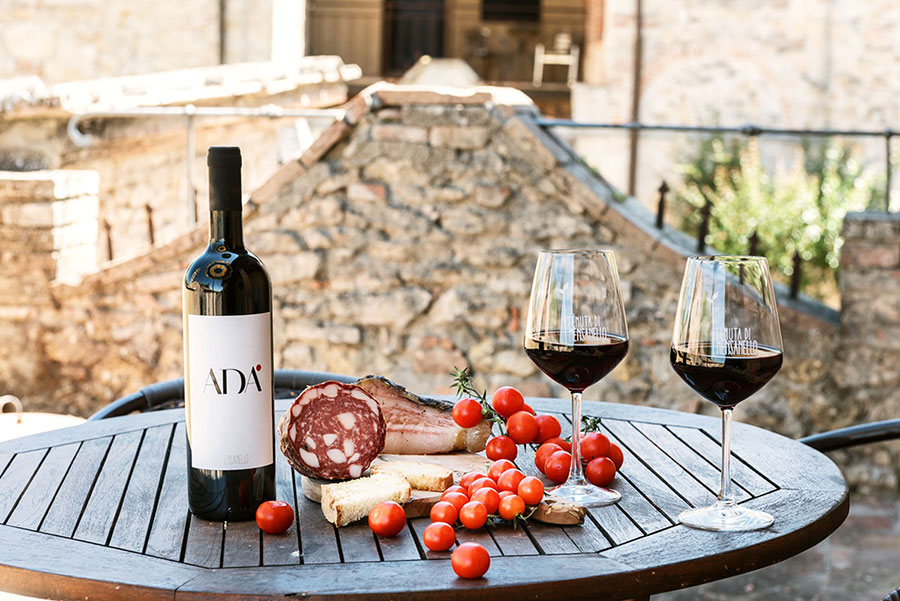 Pictures from Tenuta di Mensanello
Do you have questions and requests, or do you want to book your stay at our farmhouse in Tuscany or a table at the restaurant?