Your holiday home in Chianti
An authentic farmhouse for your Chianti holidays
Podere Fontediaccia is an ancient farmhouse located around 600 meters from the historic village of Mensanello, walking towards the vineyards of the estate that lie beside the renowned Francigena Way. Its secluded location makes it particularly quiet, ideal if you're looking for a private holiday home in Chianti which is still very close to the wonderful city of Siena and from hamlets such as Monteriggioni and Colle Val d'Elsa.
If you choose to stay in one of its four apartments you will also have access to the swimming pool dedicated solely to the farmhouse guests, surrounded by vineyards. Speaking of which: did you know that Podere Fontediaccia takes its name from them? "Fontediaccia" is in fact a vine variety and one of the red wines we produce at Tenuta di Mensanello.
If you wish to spend your holiday in Tuscany immersed in nature, experiencing real country life first-hand, our apartments in the farmhouse are waiting for you. Or maybe you're looking for the perfect venue for a family reunion, or to host your witnesses and relatives on the occasion of your destination wedding? Then you can rent the whole holiday home in Chianti to ensure complete privacy.
All of the apartments in Podere Fontediaccia include:
Overnight stay only
Equipped kitchen (stove, fridge, utensils and tableware)
Bed linens (changed weekly)
Towels (changed weekly)
Courtesy set
Toilet paper, dish soap, sponge
TV
Wi-fi
Final cleaning
Usage of outdoor spaces and the swimming pool reserved for the guests of Podere Fontediaccia
Car parking (unguarded)
Bike and motorbike parking (guarded)
Minimum stay: 2 nights
Extra (charged separately):
Tourist tax
Heating
Breakfast
Lunch and dinner à-la-carte
Washing machine
Dryer
Daily tidying up (including toilet paper; change of bed linens and towels not included)
Complete cleaning, including bed linens and towels
Extra set of bed linens per room
Swimming pool towels
Experiences and tastings
Farmer's groceries – you can book in advance and you will find everything in the apartment when you arrive (it can include our products, such as wine, oil or beer, vegetables from our garden, pasta and sauces)
The extra services can be requested when booking or on-site, at the reception.
Not included
Air conditioning – not available
Salt, oil and other ingredients in the kitchen
Check availability for your stay
A closer look at the apartments in this holiday home in Chianti
Sentiero nel bosco (2 + 1 people)
This apartment, like the whole Podere Fontediaccia in which it's located, is placed around 600 meters from the main village: a pleasant walk that ensures privacy and quiet.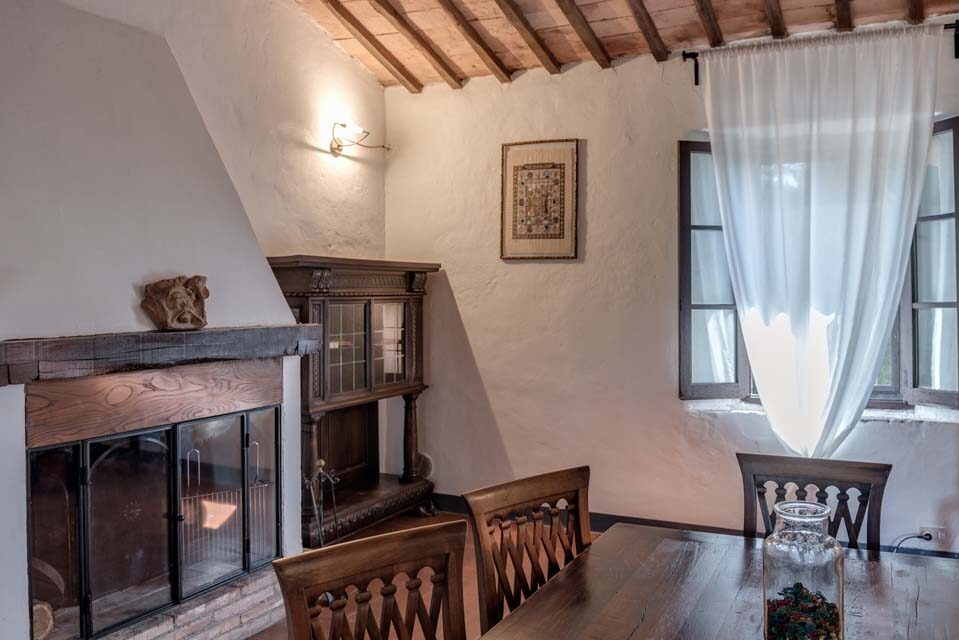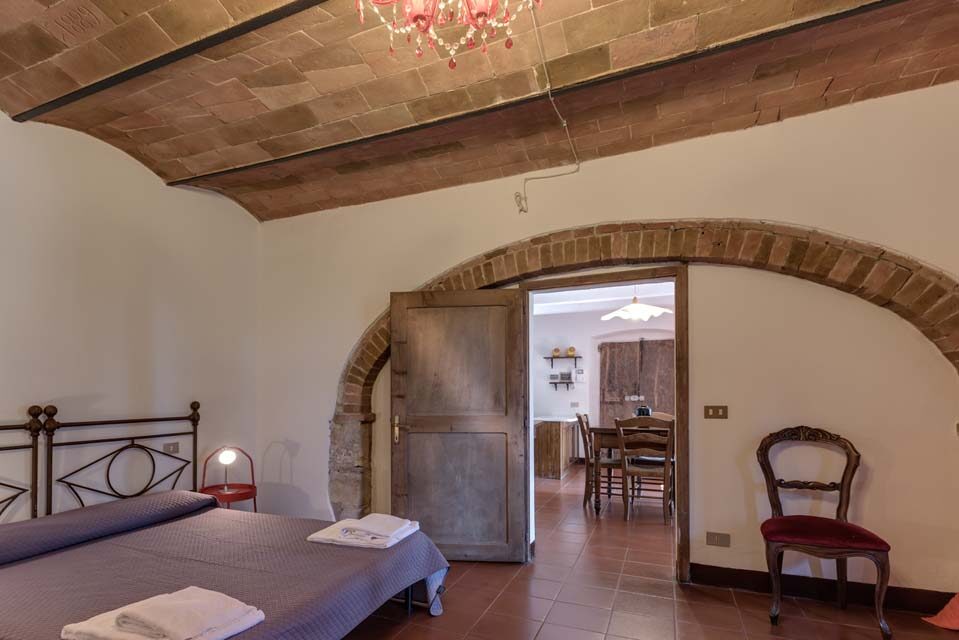 Corte dei pazzi (4 + 1 people)
"Pazzi", the nickname for Corte dei Pazzi, is an apartment composed of two bedrooms, one bathroom and a living room with equipped kitchen. Ideal for a family holiday in Tuscany for four or five people, even with very young children since it's conveniently located on the ground floor, it allows you to use the private swimming pool dedicated to Podere Fontediaccia.
Dal tramonto all'alba (4 + 1 people)
Two double bedrooms, a living room with equipped kitchen and one bathroom make the apartment Dal Tramonto all'Alba ("from sunset to sunrise" in Italian) particularly suitable for families and small groups of friends. If your group is bigger, you can rent more than one apartment or the whole holiday home in Chianti.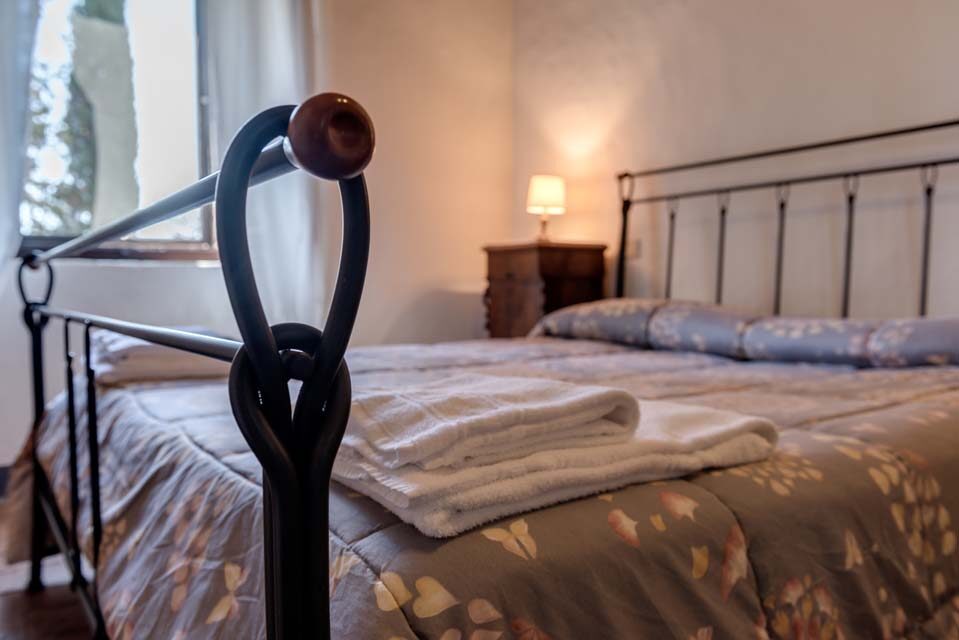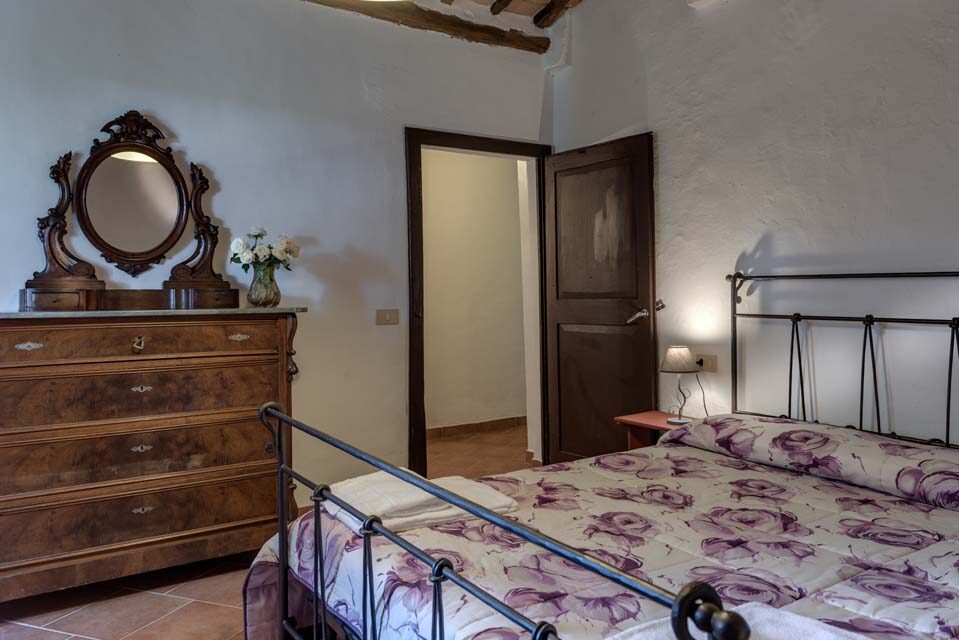 Vecchia quercia (5 + 1 people)
Vecchia Quercia ("old oak" in Italian) is the most spacious accommodation in Podere Fontediaccia and can host up to six people. In this case there are three bedrooms, with two bathrooms and a living room with equipped kitchen. Located on the first floor, it benefits from an amazing view over the hills that surround it: the ideal setting for an authentic holiday in Tuscany.