Authentic farm stay in Tuscany
Your holiday rooms in Mensanello
Are you dreaming of staying on a farm in Tuscany?
Our 13 rooms are the perfect setting for your relaxing Chianti holidays in close contact with nature. They are all located in the buildings of the historic village of Mensanello: a small group of houses, small villas and farmhouses, surrounded by around 300 hectares of cultivated fields, vineyards, olive groves and woods.
Imagine green rolling hills all around you and, just two steps away, the stunning city of Siena with its Duomo and ancient history. Don't forget the picturesque medieval villages scattered around the area, such as Colle Val d'Elsa and Monteriggioni, which will teleport you into a different time as soon as you step in their alleys. And what about the Francigena Way? A route with a deep spiritual and panoramic value, that will allow you – if you wish – to reach Tenuta di Mensanello by foot.
In the rooms of our Tuscan farm you will be able to rest, charge your batteries, feel the authentic agricultural atmosphere, take part in unique experiences and taste delicious meals that will make your Chianti holidays even more unforgettable. Double or triple, equipped with all comforts and furnished in typical Tuscan style: we created many small havens of peace so that you can treat yourself to a stay just the way you like it.
All of the rooms include:
Breakfast with natural and local ingredients, served in a dedicated room
Private bathroom
Air conditioning
Heating
Bed linens (changed weekly)
Towels (changed weekly)
Courtesy set
TV
Wi-fi
Usage of outdoor spaces and swimming pool
Car parking (unguarded)
Bike and motorbike parking (guarded)
Minimum stay in July and August: 2 nights
Extra (for a fee):
Tourist tax
Lunch and dinner à-la-carte
Washing machine
Dryer
Extra set of bed linens, complete or per room, before the regular 7 days
Swimming pool towels
The extra services can be requested when booking or on-site, at the reception.
Check availability for your stay
A closer look at our rooms for your farm stay in Tuscany
Canaiolo (2 people)
Located on the ground floor of a building in the historic village of Mensanello, near the church of the estate, this double bedroom furnished in a simple Tuscan style has everything you need for a serene stay.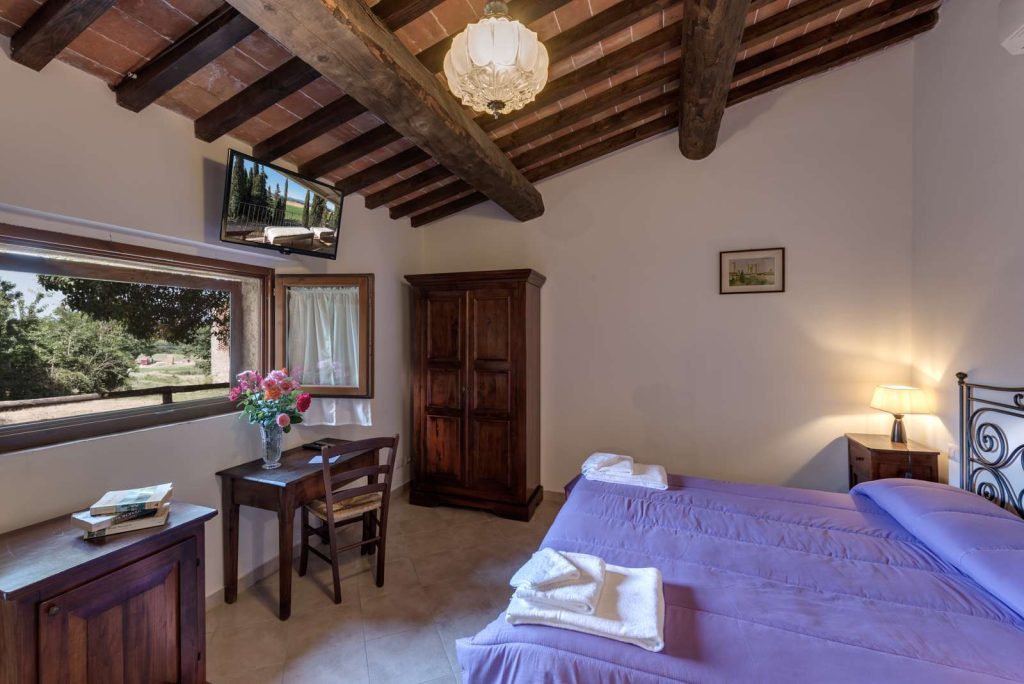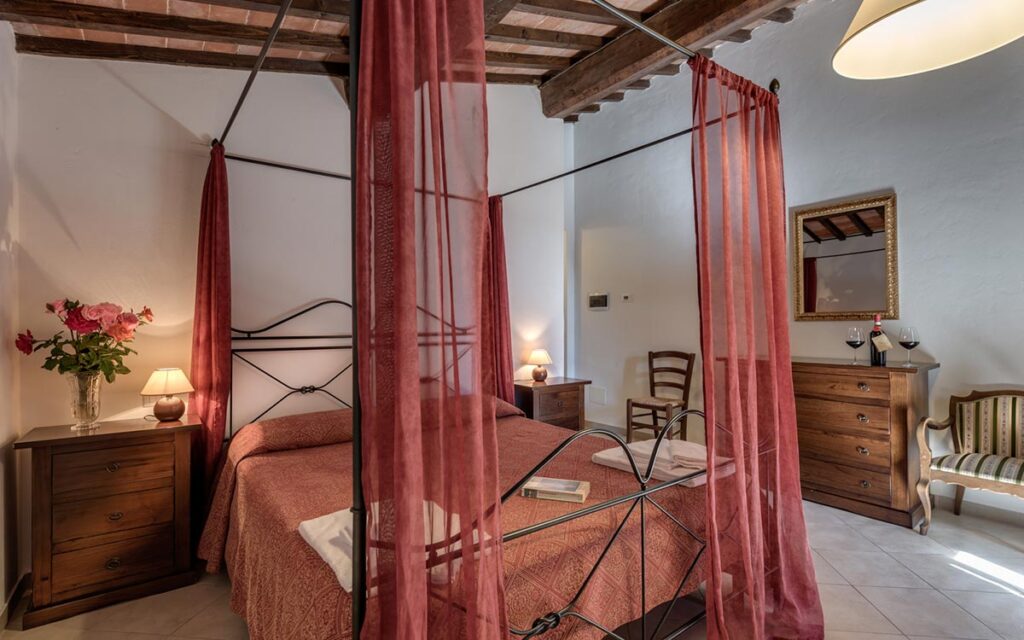 Ciliegiolo (2 people)
Also characterized by the typical Tuscan influence, the room called Ciliegiolo can host two people: it's ideal for Tuscany holidays for couples who love nature. And let's not forget the excellent breakfast!
Colorino (2 people)
The room called Colorino is also located near the church of Tenuta di Mensanello. Two people can conveniently use the private spaces and the ones that are shared with other guests – such as the pool – for an unforgettable stay.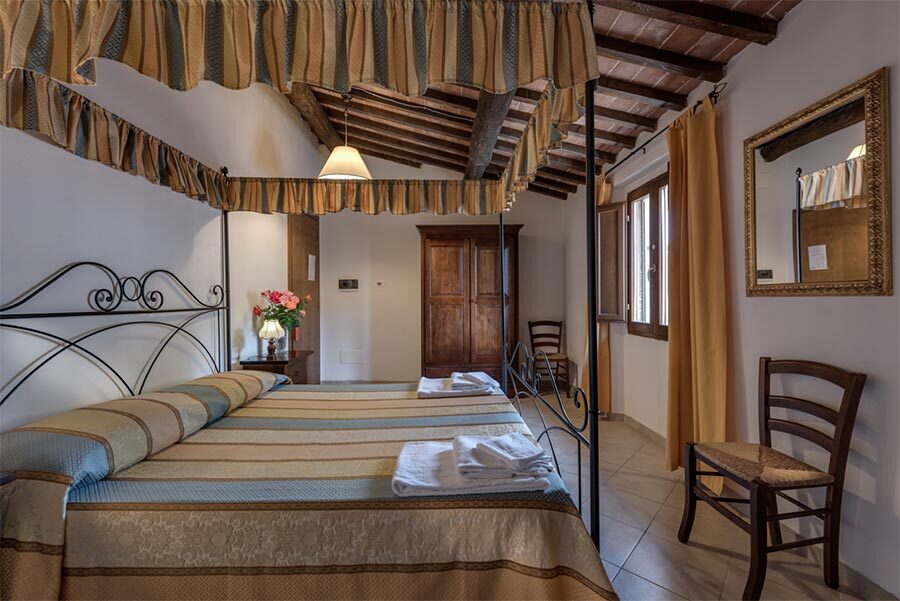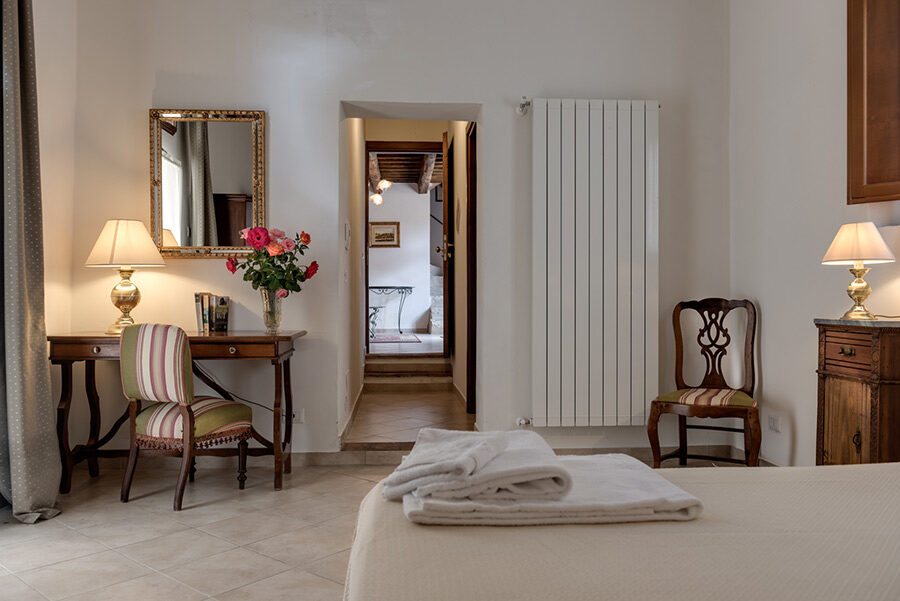 Frantoiano (2 + 1 people)
This room for your farm stay in Tuscany, whose name is inspired by the olive mill of our estate ("frantoio" in Italian), can host two or three people for a real countryside experience.
Leccino (2 + 1 people)
This Tuscany holiday accommodation, which takes its name from a type of olives that we grow at Tenuta di Mensanello, is suitable to host two or three people in its comfortable and cute setting.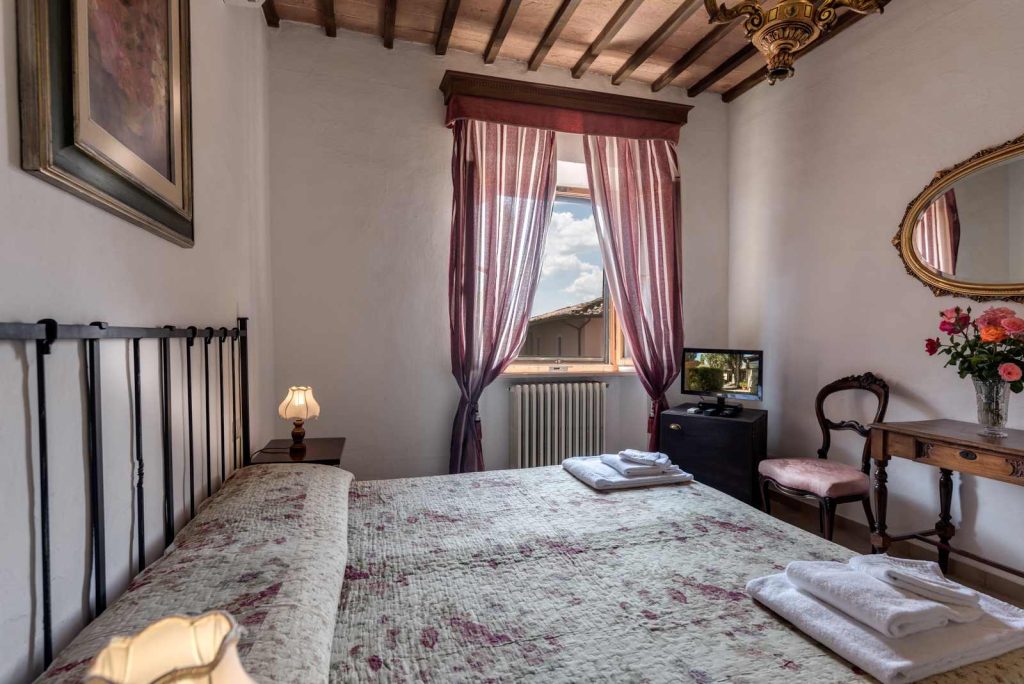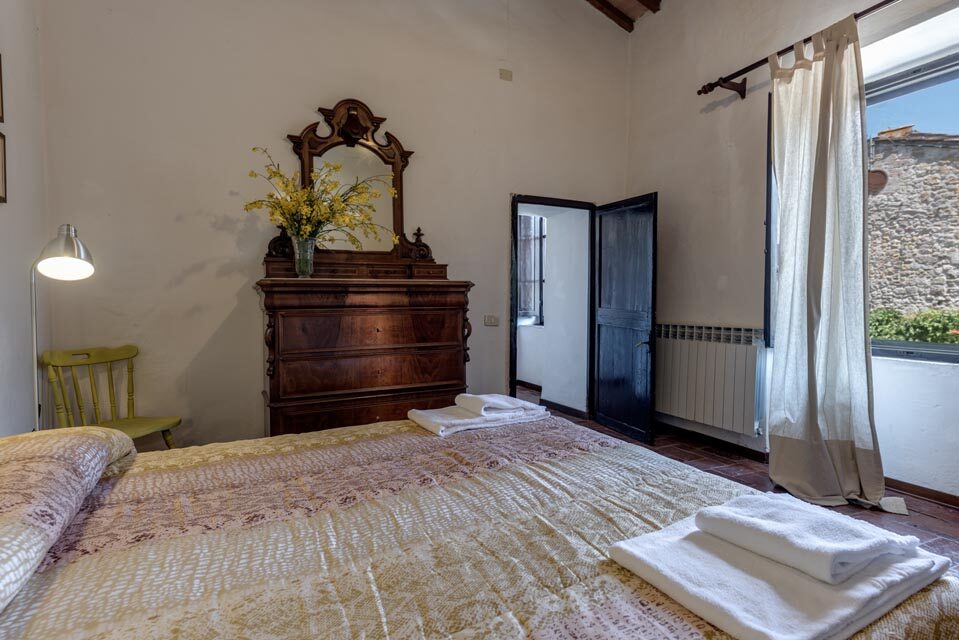 Malvasia (2 people)
A standard room, perfect for a couple's vacation in Tuscany, located close to our adorable little church. The Tuscan-style furniture adds a pleasantly rustic touch, for a stay that you will remember for a long time.
Mammolo (2 people)
The ideal room if you want to spend your holiday near Siena on a budget. The room is small and cozy, and ready to welcome you after your exploration of the surroundings to offer you a restful sleep.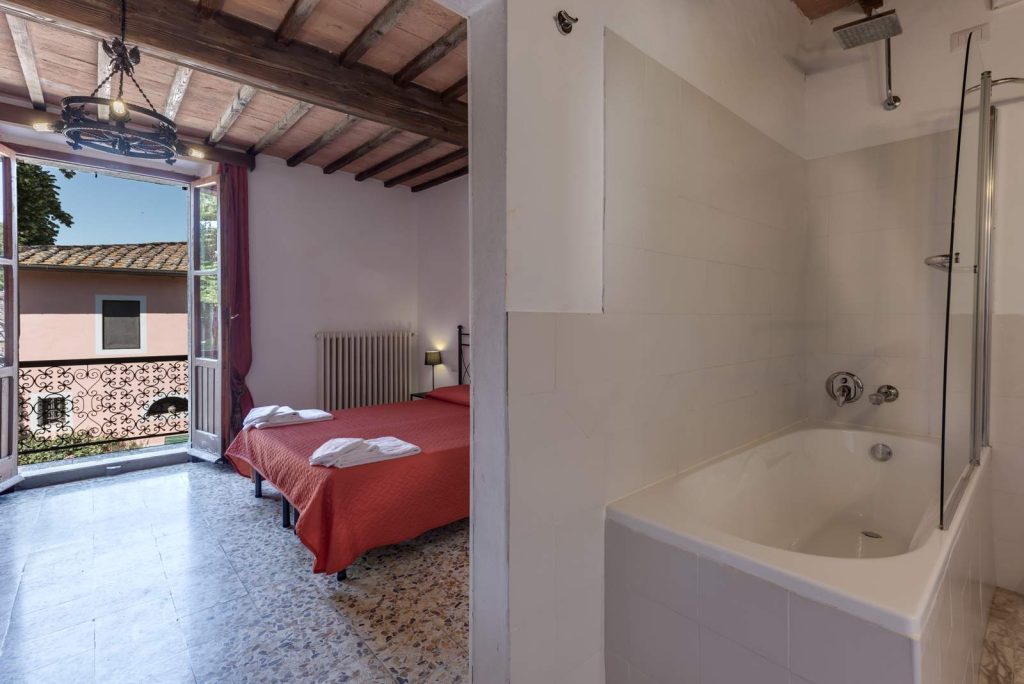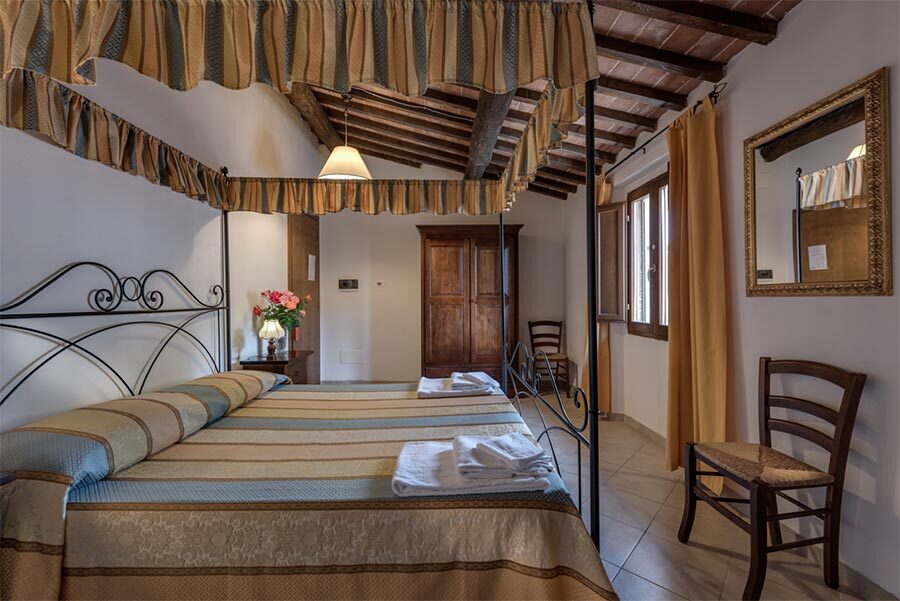 Moraiolo (2 people)
A nest where to go back between one excursion and the next one, one village and the next one, one walk immersed in nature and the next one. A double room equipped with everything you need for an essential yet comfortable farm stay in Tuscany.
Morchiaio (2 people)
Even this room is perfectly suitable for those who spend the majority of their Chianti holiday out and about. In the evening, there's nothing better than this to charge your batteries! And in the morning, our breakfast will give you the right energy to start over.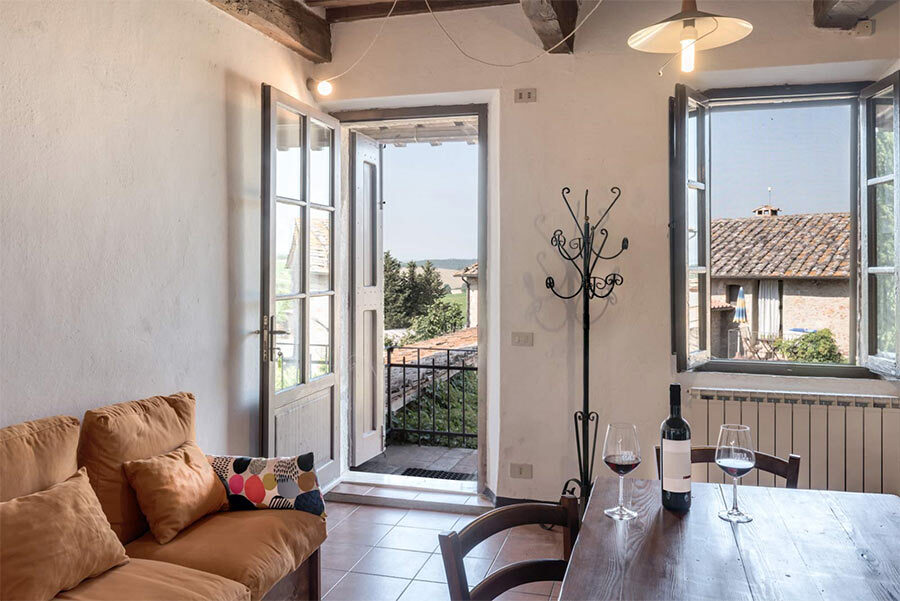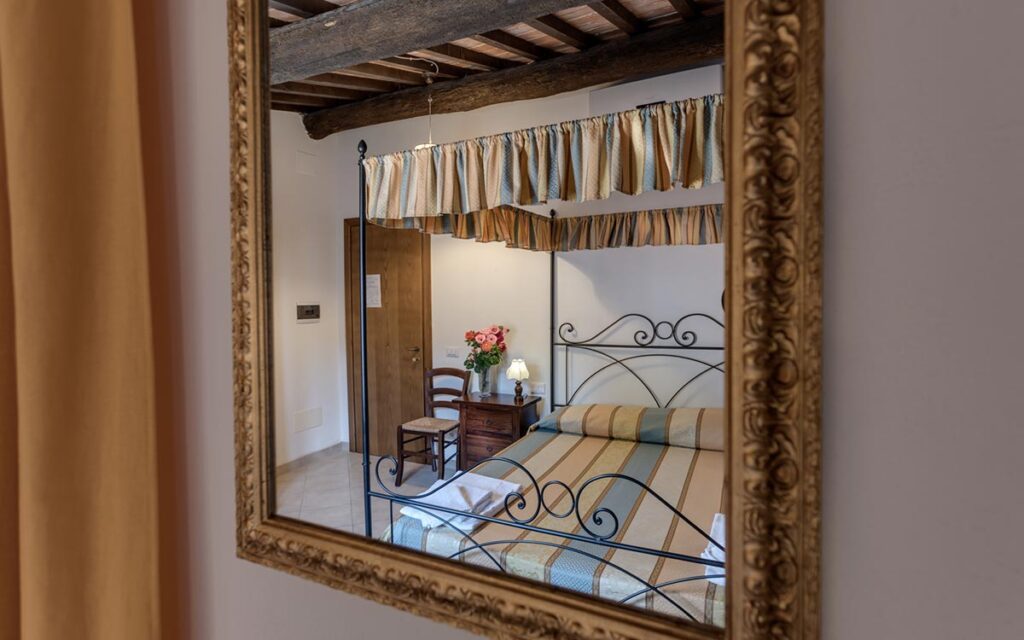 Olivastra (2 people)
At Tenuta di Mensanello we love olives: could we possibly not dedicate another room to them? Olivastra can host up to three people that want to spend their holiday near Siena, on the Chianti hills.
Pendolino (2 + 1 people)
On the first floor of one of the buildings in the historic village of Mensanello there's the standard room Pendolino – it's a double room, but it's possible to add one bed upon request.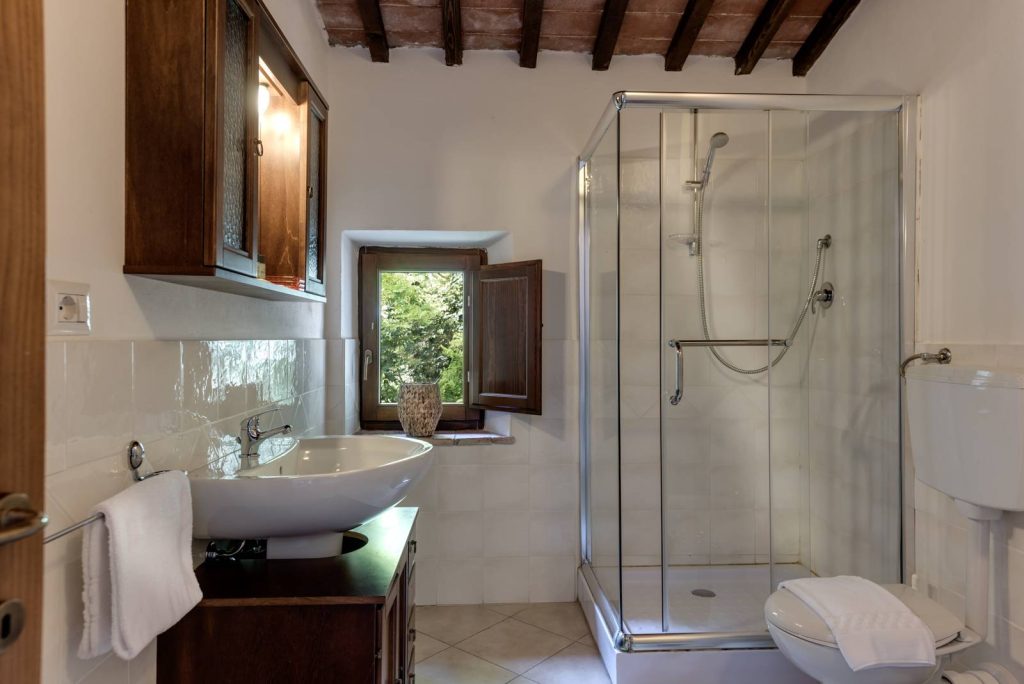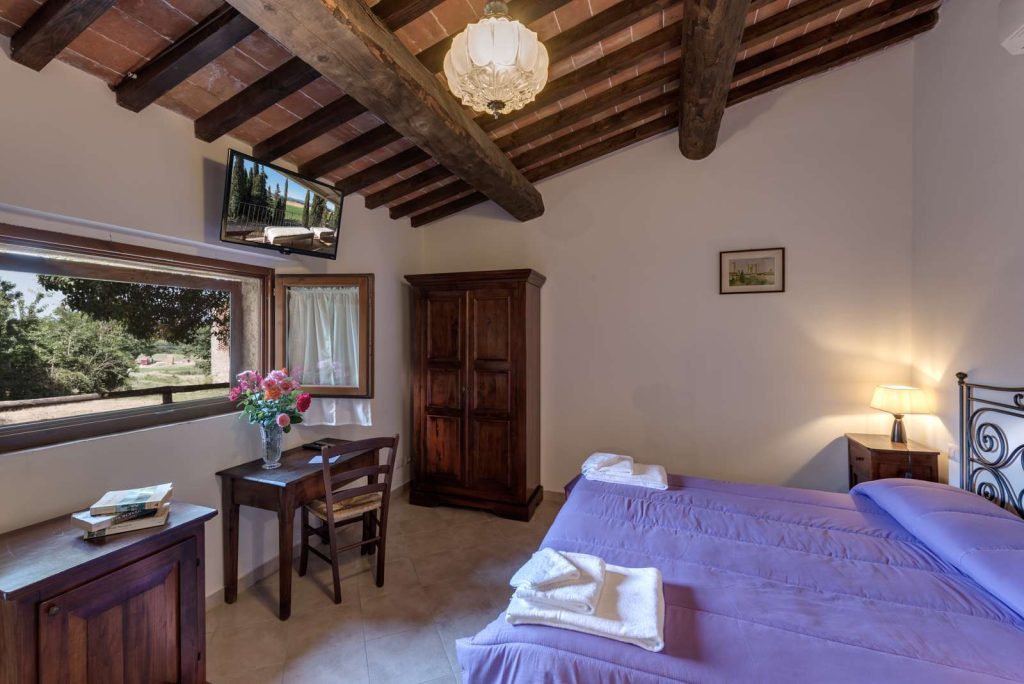 Sangiovese (2 people)
This is another double room located nearby the village church, and it's dedicated to another great passion of ours: wine. Nothing better, if you want to spend a few days – or a longer period – in the Tuscan countryside.
Vento d'estate (2 + 1 people)
Last but not least, if a family with a child or a couple wants to come to Tuscany on holiday or for a weekend getaway, they can do it in this convenient and nice room located in the main village of Mensanello.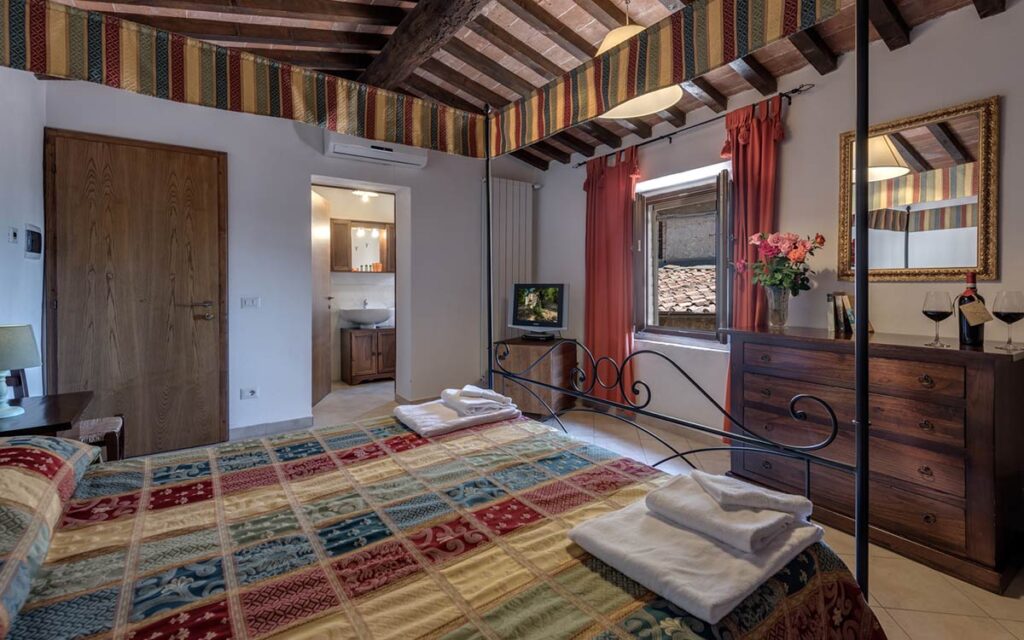 Book now the ideal room for your farm stay in Tuscany